This website is owned by Eric J. Hörst (pronounced "Hirst"), the nation's leading authority on climbing performance. An accomplished climber of more than 37 years, Eric has ascended cliffs all across the United States and Europe. Driven by his passion for adventure and challenge, he has established over 400 first ascents, primarily on his home cliffs in the Eastern states. Eric is an internationally recognized performance coach and author of eight books (climbing performance genre) with sales of over 300,000 copies. His recent books include the second edition of his best-selling Training For Climbing (September 2008), the powerful Maximum Climbing (2010), and the gym climbing book Learning to Climb Indoors (2012). Several of his books have foreign translations. You can order signed copies of his books from this web site.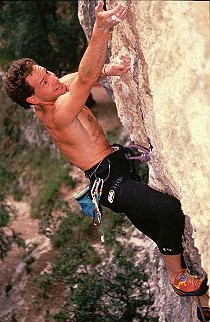 A student and teacher of climbing performance, Eric has personally helped train hundreds of climbers, and his training books and concepts have spread to climbers in more than 50 countries. He is widely recognized for his innovative training techniques and equipment, and he has been a training products design consultant for Nicros, Inc. since 1994. Eric's other widely-circulated books include Flash Training (1994), How To Climb 5.12 (1997), Conditioning for Climbers . Eric has written over 60 magazine articles, appeared on numerous TV broadcasts, and his techniques and photos have appeared in many publications including Climbing, Outside, DeadPoint, Men's Health, Fortune, Men's Journal, Muscle Media, Alpen, Rock & Ice, Muscle & Fitness, Paddler, Urban Climber, Parents, Wall Street Journal, Experience Life, and National Geographic Adventure. Eric is also editor of the NICROS Training Center.
Editorial requests for interviews, articles, or photographs please email Horst at TrainingForClimbing dot com
TFC Sponsors
---
Eric Hörst and the TFC web site are proudly affiliated with the following companies.